︎ ︎

Project updates



The suitcase of eels is filling up quickly. Here's what we've been doing…

John - JUNE 19
Some terrific new (enormous) eels from Imogen Mangle and Scotty Gillespie !




It's fun printing things really BIG!




John - JUNE 19
We have organised a series of events with the Sustainable Eel Group to showcase work from the Eel Suitcase. I have taken the artistic lead and have designed the events programme.

At the moment, these events are still taking shape and the programme is having to be updated daily!



Sunday 23rd June

London Wetlands Centre

11:00 - 12:00 'The Eel in Crisis' an illustrated talk by Andrew Kerr, SEG Chairman, Room H20.

Eel art on public display.

I have only just found out that we cannot attach anything to the walls for this event so we are planning to make a series of free-standing roll banners featuring the eel art..

It is likely that the art will only be on display for the day of Andrew's talk BUT we are in discussions to have a more permanent exhibition there from the start of July, so watch this space.

Wednesday 26th June 7pm

Dutch Church, 7 Austin Friars, London EC2N 2HA

To coincide with the arrival in London of a historic Dutch eel shuyt, we are holding a service to remember those who died shipping eel to London from NL.

There will also be Eel Poetry readings from Luke Thompson and friends.

Eel art on public display.


Thursday 27th June & Friday 28th June

The Natural History Museum

'10 Years of the Sustainable Eel Group - Where next for eel protection?'

This two-day conference will bring together 200 of the finest minds in the international eel-science community. As you will see from the programme, this is quite a gathering. We will be showcasing the eel art in a special gallery and will be hoping to disrupt the science with poetry readings and showings of the animated works and films. Some of the eel art will also feature on the delegates information folders. SEG will be handing out awards designed by UoP students.





John - DEC 18
Reise med ål by Torolf E. Kroglund published by Cappelen Damn and featuring one of my eel designs.
John - Trip to Brussels (03.10.18)

The Eel Suitcase project was mentioned in The Guardian Labs online this week.
The University of Plymouth is doing some fantastic work embedding and teaching sustainability within the curriculum.
"We give our students a lot of freedom to work on issues that are important to them," says John Kilburn, a lecturer on the BA (Hons) illustration programme at Plymouth. "The eel project was one of several we introduced to our students during the year-two Interpreting Information module. Students start the module off by working in groups on projects related to local and/or ethical organisations under the working theme of 'sustainability in the south-west'."
LINK
...
John - Trip to Brussels (03.08.18)
Our Guide to Brusseels was made by a group of students from the University of Plymouth who accompanied us to the European Parliament in Brusseels. Inspired by the entire trip this is the essential campanion to any eel lover's visit to the Belgian capitol.
LINK
...

John - Trip to Brussels (19.07.18)

Our trip to the European Parliament was a great success. FInd out more about it and read our Guide to Brusseels'
here.
On the way we stopped by F.Cooke's Live Eel Shop in London.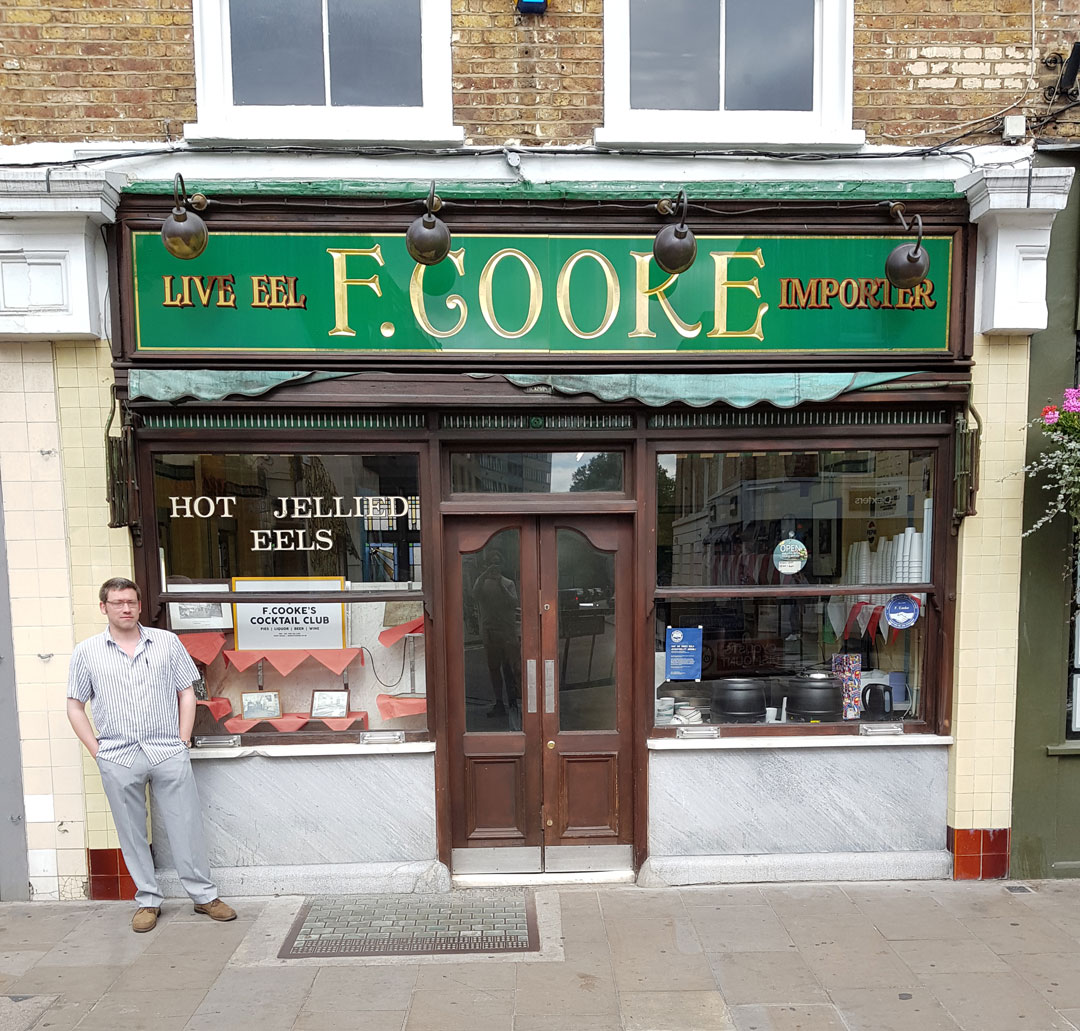 ...

John - Thursday 7th June
Image: Team Stealth
Our trip to Brussels is just around the corner now and we have been awared some funds via the University's HEIF fund. Alongside a contribution from SEG this means we can take 10 students with us to exhibit the work but also to document the trip. We hope to make a newsletter or publication bring together the combined skills of students from Illustration, English, Photography and Publishing.
...
John - Monday 14th May
Alice Guidi's fabulous silkscreen prints responding to teh theme of 'Eel and Culture'.
As we approach the end of the academic year we are starting to see lots of finished eel related artwork from the second year Illustration students at the University of Plymouth. This work is part of the Illus510: Interpreting Information module that has a focus on sustainability in the South West. Other, non-eel related projects include students working with local ethical or charitable organisations and academic research groups.
...
John - Monday 30th April.
The Eel Suitcase is starting to fill up nicely with submissions of illustrated eels coming thick and fast. Hopefully this part of the project has the potential to run for many years and gather some real momentum. In the short term we are still focusing on completing a range of publications and takin them, alongside all of the Illus510 artwork, to Brussels in mid June.
...
John - Monday 16th April
At the weekend we went on an Eel adventure to Somerset. We had hoped that this would be the weekend when the eels were running but we apparently they have been delayed slightly this year, perhaps because of the chilly weather.
Smoked eel at Brown and Forrest, Hambriddge, Somerset.
Our guide for the day, Jerome, was described to me by Luke as a 'elver-catching, real tennis professional professor'. He proved to be highly knowledgable and generous as he showed us the eel country around his part of Somerset.
Eel country.
Our first stop was at Brown and Forrest, a smokery and restaurant with a fine tradition of smoking eel. We were met by the owner Jess Pattisson who showed us the hot smoker where they smoke eels using a combination of beech and apple wood.
Hot smoker at Brown and Forrest.
Brown and Forest still serve eels and sell them in their shop despite their critically endangered status. They have however stopped selling them wholesale to supermarkets. Jesse seemed confident that the impact of his operation was insignificant compared to other threats that eels face, he also seemed confident that new science related to eel breeding would soon solve the sustainability issues related to this species.
...
Luke - Monday 9th April
I have been writing and editing and anthologising, playing with early eely texts, science and speculation. Some of the big guns of intellectual life from the past few thousand years have stumbled when it came to the eel, including Aristotle, Pliny, Linnaeus and Freud, creating a fascinating body of work reflective of this elusive fish. I have a bit of a thing for this sort of writing and research, in which the very heart of the study does not exist, but continues to attract wild and wonderful thoughts, theory and conviction even in its absence. Perhaps the essence of absurdity.
My pulp-style monster eel novella is drafted and has been delivered to John for further absurdification. Taking inspiration from those 1970s renaissance pulp novels about killer slugs in Merton, flesh-eating beetles in Cambridge, and giant crustaceans invading Wales, this novella plays with a traditional folk ballad, replacing the tale in the south-west then adding a little Freud and a nuclear power station.
I have also sent a social media call-out for poets to send through their eeliest poems, which has been amazingly well received. I'll be editing a short anthology of these for Guillemot Press, to be included in the suitcase. It has the working title of The Creel.
Lastly, I have been running workshops, most recently with students at Plymouth University. I'll be taking the work they produced to a talented bunch of eellustrators in a few weeks. More on that anon.
...
John - Monday 9th April
I have been reading up on several important eel texts and generally immersing myself in the wonderful world of the eel. I have been in contact with Andrew Kerr, the chairman of the Sustainable Eel group and have been putting plan in motion to take work from the eel suitcase and related student projects to the European pariament in Brussels (or Brusseels). The event is to be hosted by German MEP Ulrike Rodust and will hopefully help to raise the profile of the European eel by embracing new and creative methods and collaborations such as the eel suitcase, ILLUS510 and UWE's hydrocitizenship project. We are trying to raise extra funds so that we can take a group of our students with us.
On the creative front I have been getting to know the eel by watching, observing and drawing. Primarily from film and photographic sources but also from scientific illustration. I have found that you can have a lot of fun with the face of the eel, it is so charismatic. Also the well-known form of the eels body allows a lot of scope for playing with the features of it's visage - the glassy eyes, the hooked mouth with protruding underbite or overbite. The form of the eel also lend itself to other purposes such as the eel letterforms for the Save the Date flyer or for Eely page breaks or motifs. Having experimented with various techniques and media I have settled upon a process of pencil drawings coloured with food dye. These drawings have an organic feel that seems suited to the eels nature and allow the spontaneity of the drawings to survive.
Eels. Pencil and food dye. John Kilburn 2018.
Eels. Pencil and food dye. John Kilburn 2018.
John Kilburn 2018.
John Kilburn 2018.